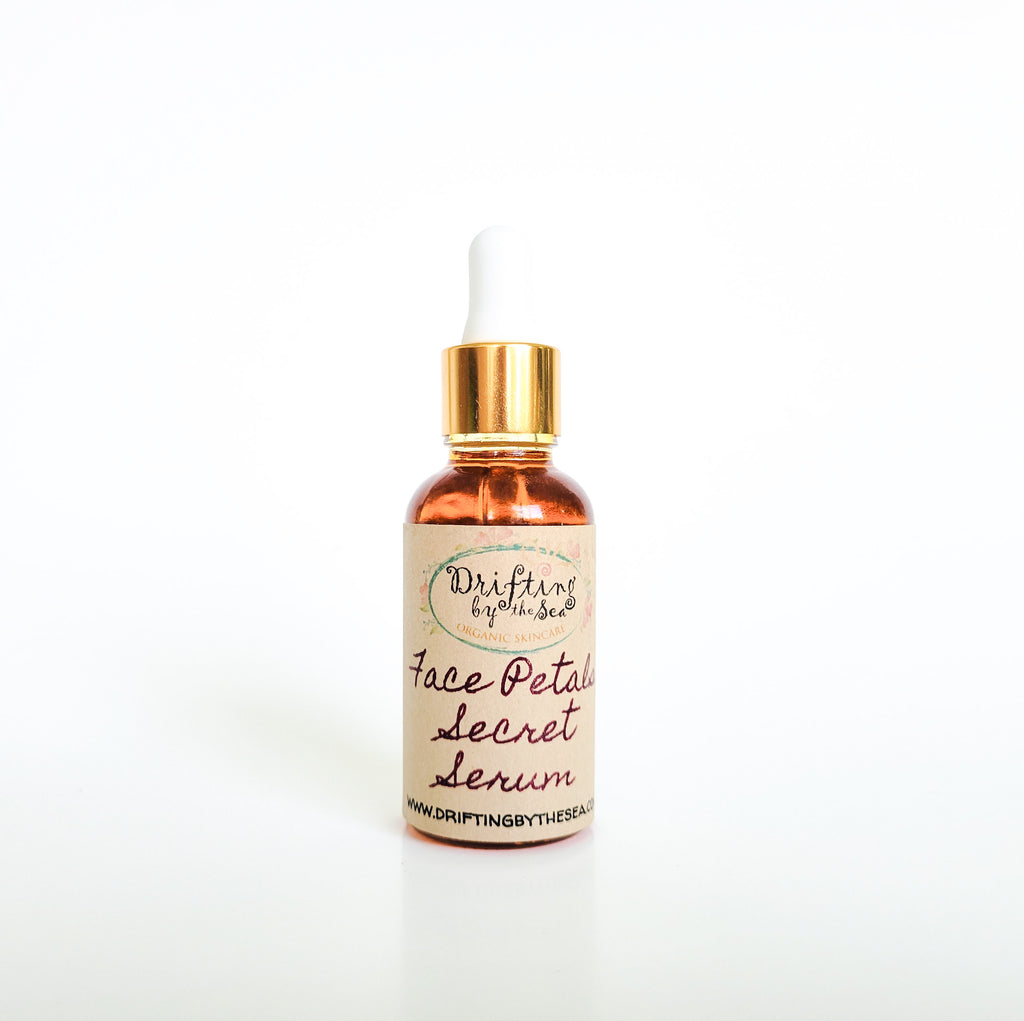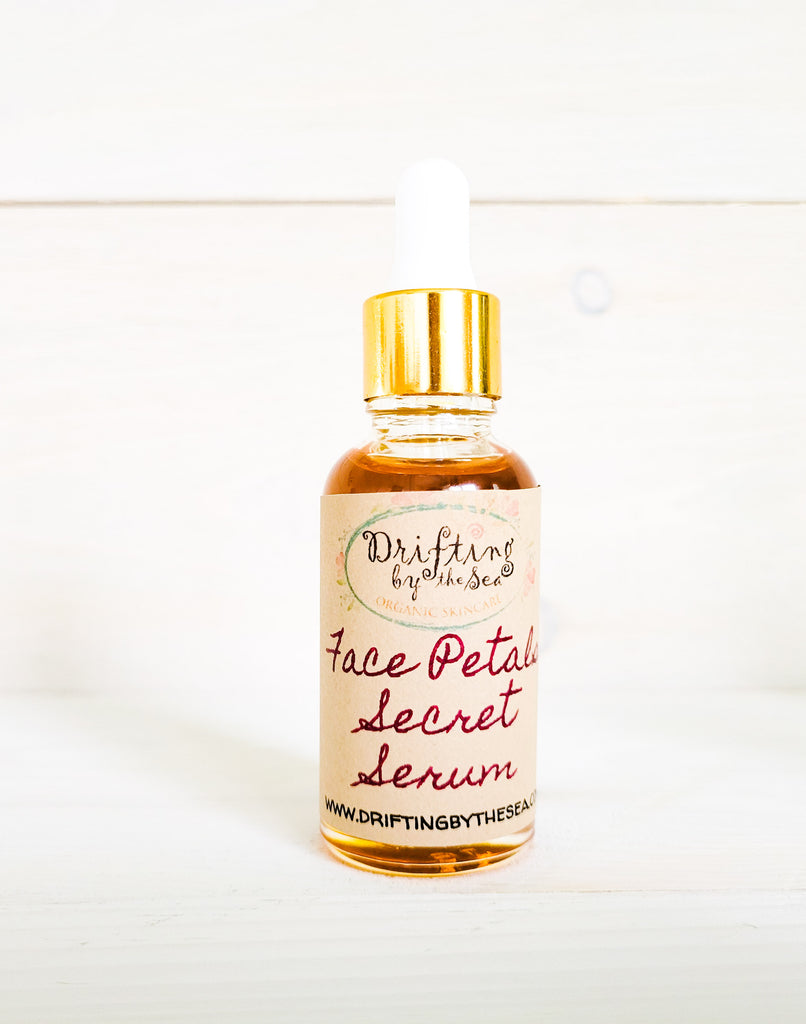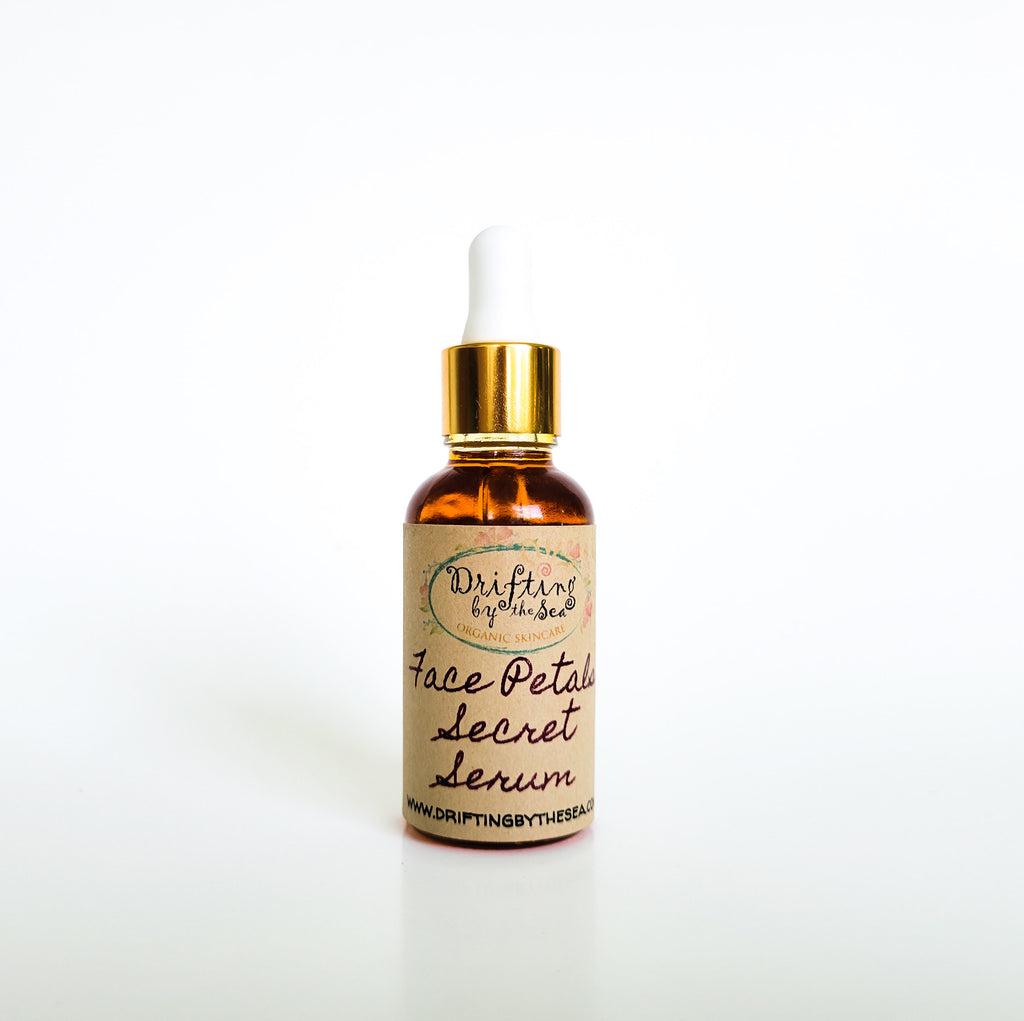 $ 36.00
$ 0.00
Face Petals Secret Serum
Dramatic, dynamic, magical, plant-infused goodness!
T H E   P L A N T   L O V E
Face Petals Secret Serum is a dramatically effective moisturizer with a  sweet, rich, intoxicating aroma. She will take your senses on a dance with a soft, velvety amber goodness that will lovingly drench your skin, filling in lines and plumping up tired tissues with a radiant bouquet of health.
Damaged tissue, broken capillaries, scars, and hyperpigmentation will literally disappear or fade with regular skin quenching of this serum. Nutritive plant extracts & essential oils glide lovingly over skin to heal broken scar tissue and neutralize free radicals for a softening glow that will have everyone wondering what your secret is!
ROSEHIPS SEED OIL - Rich in essential fatty acids, this luscious cold-pressed oil increases skin cell turnover with vitamins A, E, C, and Carotene, all of which are anti-oxidants that fight free radicals.
SEA BUCKTHORN BERRY - A superfruit filled with all of the Omegas - 3, 6, 9, and 7, plus a host of anti-oxidants and healing nutrients which increase cellular vitality, slow aging, and neutralize free radicals. 
CALENDULA - A natural anti-inflammatory that helps to promote wound healing by increasing blood flow and increasing production of collagen proteins.  
HELICHRYSUM - A strong anti-inflammatory that encourages production of new cells, while stimulating recycling of dead cells. The pressure relief it provides to nerve cells works to heal discoloration and pain, makes it a powerful plant oil for arthritis, bruising, and scarring. 
CARROT SEED - Rich in Carotene and Vitamin A, providing a wealth of antioxidants that help stimulate skin cell renewal, repairing damaged areas. 

T H E   S K I N   R I T U A L ~ As a pre-cleanse for your PM skincare routine: add a few drops to your fingertips and begin massaging throughout the face and neck areas. Dampen the skin with water. Layer with cleanser by massaging cleanser in thoroughly as well, and follow with a rinse. For your night moisturizer: After cleansing and toning skin, apply Face Petals Secret Serum in circular motions throughout the face and neck. Any excess amount can be dabbed with a clean cotton pad. After application, lay down on clean sheets, and close your eyes for sweet dreams while this serum goes to work!
A few drops of Face Petals Secret Serum can also be added to your masque treatment as a booster, or combined with Mermaid Petals Face Cleansing Grains for a DIY toning facial massage that stimulates lymphatic flow and improves facial skin circulation, unveiling a healthy glow!

Ingredients: Rosehips Seed Oil*, Sea Buckthorn Berry Oil*, Jojoba Oil* infused with Calendula petals*, Helichrysum flowers*, & Lavender buds*, Sea Buckthorn Berry CO2 extract*, Rosehips CO2 extract*, Calendula CO2 extract*, Essential Oils of Helichrysum* and Carrot Seed*. (*signifies organic/certified organic/wildcrafted ingredient)

1 oz in a glass bottle with cork