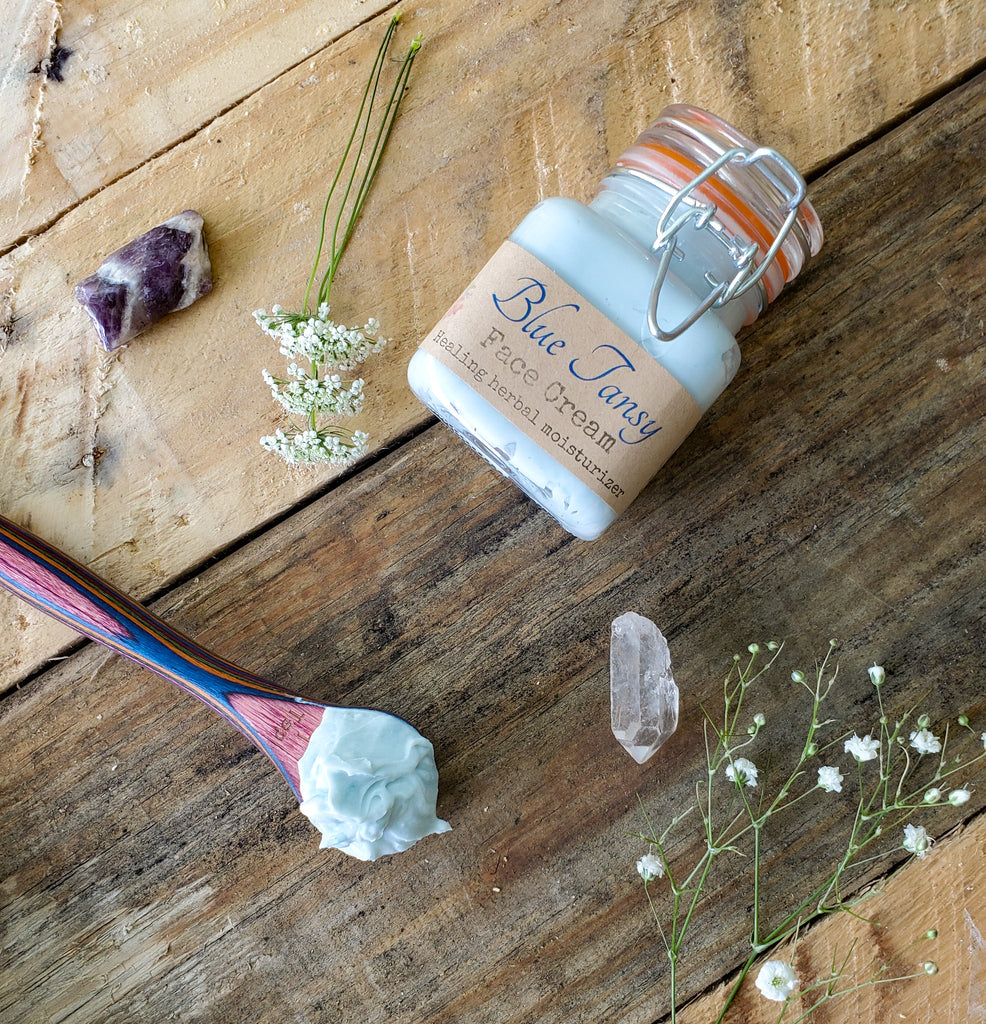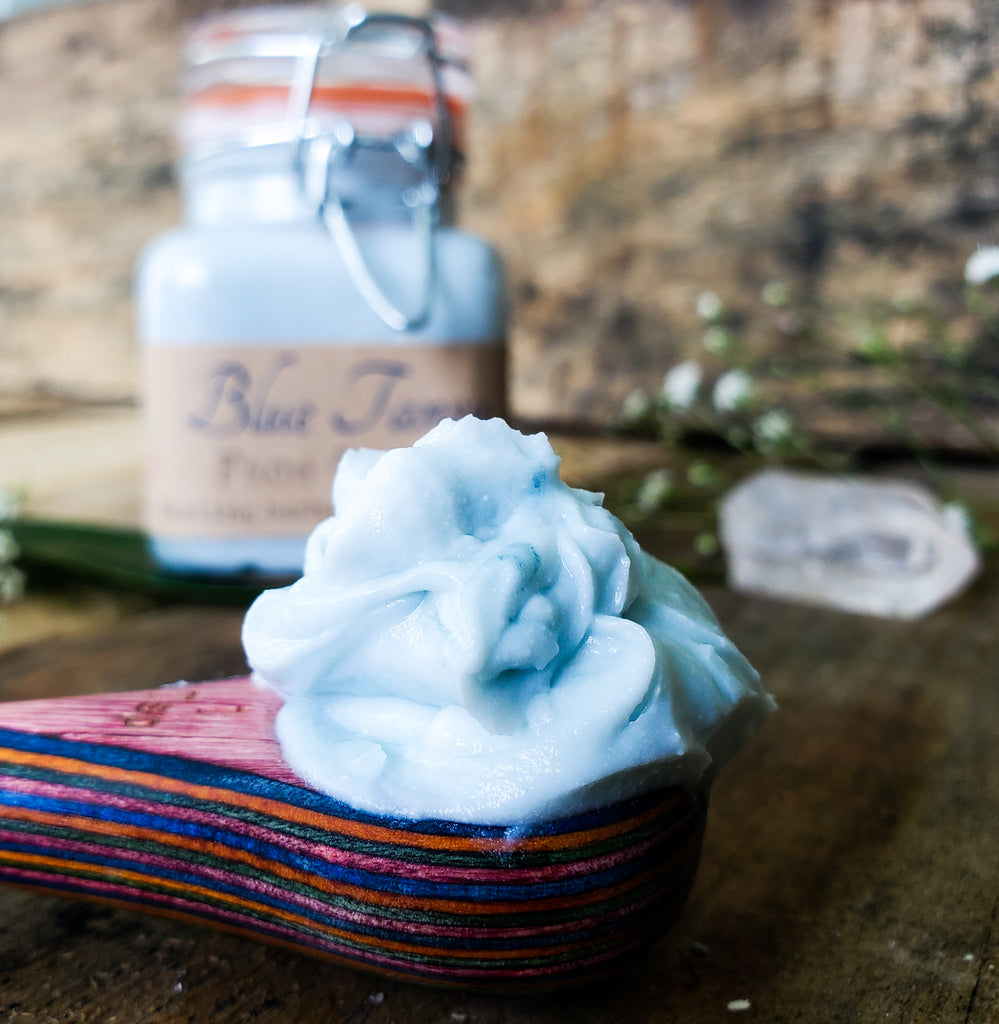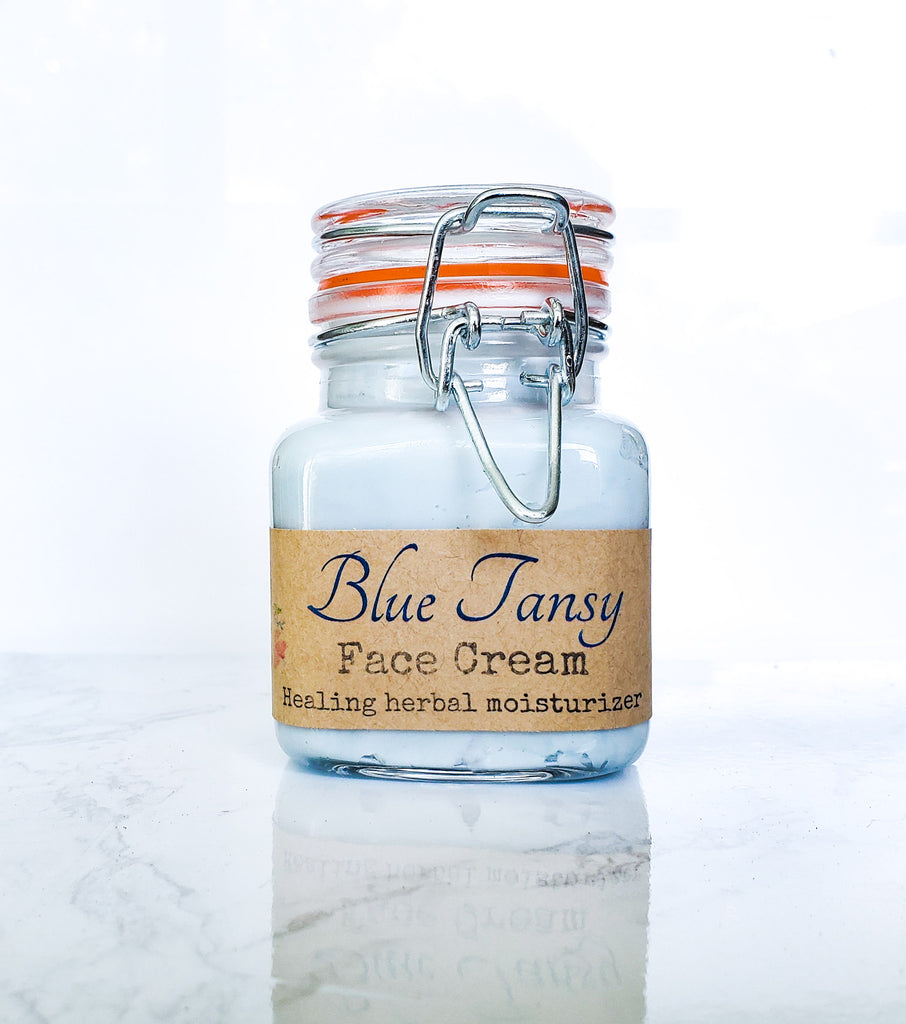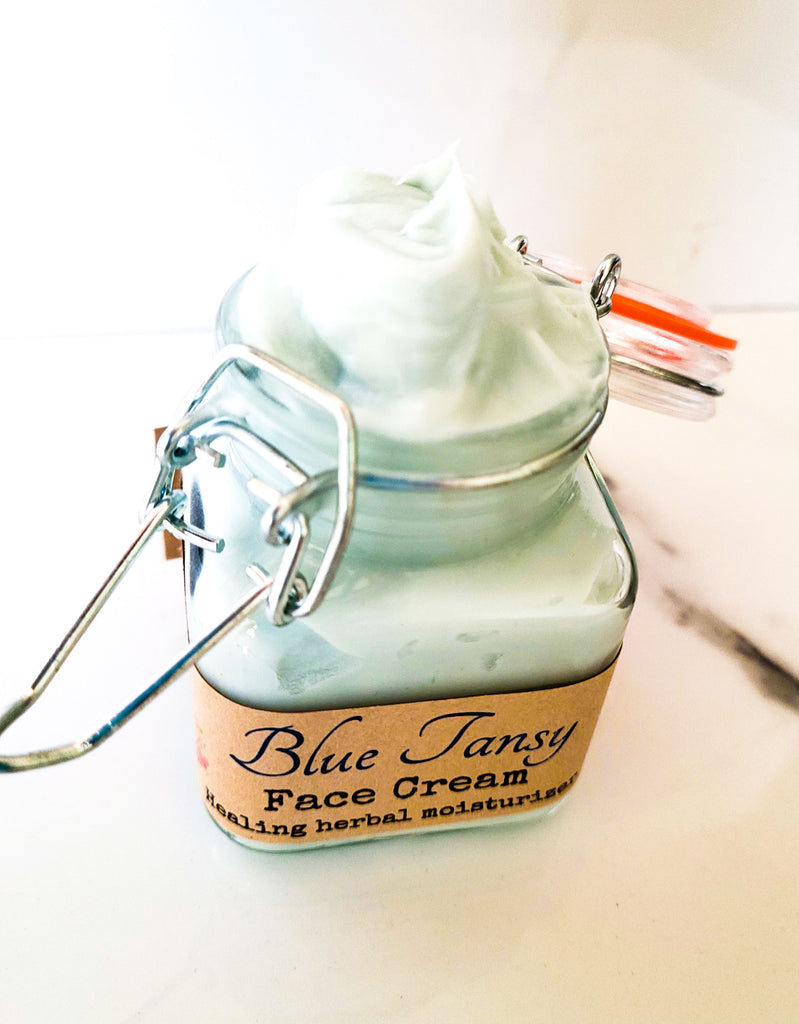 $ 10.00
$ 0.00
Blue Tansy Face Cream
Massage this beautiful facial cream into your skin and enjoy increased circulation which in turn promotes tightening and skin barrier-protective qualities. Outdoor pollutants, exposure to the sun, and stress can all contribute to wrinkles and skin breakdown, even with a healthy lifestyle. This cream is a bouquet of cold-pressed, organic, unrefined oils, along with Ghana shea butter and an exquisite essential oil blend. Ingredients are combined on the lowest heat settings, as to not lose any of their beneficial properties, as your senses will enjoy a joyful journey of fresh, rich botanicals. 
Like all of my creams, this beauty is created from my own recipes the old-fashioned way. (I do NOT buy bases and then scent them - my creams are actually made in small batches by myself). Experience for yourself the delicate richness of something made within just a FEW DAYS of your order, there is nothing quite like it, and you deserve it!
Carefully selected ingredients are designed in this cream to calm and tame redness and irritation, due to the azulene component which also provides a gorgeous natural blue tone (no artificial colors needed just Mother Earth). The aroma, a mix of dry and floral with delicate sweet undertones blissfully inspires self-esteem, enthusiasm, and confidence in all areas of your life. Blue softens red and quiets the inflammation naturally. 
This cream is made for all skin types, especially those experiencing the effects of dryness, aging, and lack of balance. Try a sample (1.5 oz) or a full-size cream. This cream works well with Ocean Dreams Face Cleanser (evening), or Mermaid Petals Face Cleanser (day).
I N G R E D I E N T   H I G H L I G H T S
Sunflower Seed Oil- easily absorptive to the skin, this oil is deeply nourishing and conditioning.
Avocado Oil - a rich emollient, packed with Vitamins A & E which work to improve skin texture, 
Centrifuge-extracted Coconut Oil - raw and unrefined with a wealth of nutrition for skin, and provides a gentle nourishing protective layer, complimenting all skin types. 
Hempseed Oil - essential omega fatty acids and proteins highlight this oil which is rejuvenating and skin-smoothing.
Borage Seed Oil - GLA (Gamme Linolic Acid) is a special feature of this oil, which provides skin-conditioning properties especially to mature skin
Ghana Shea Butter - softening and skin retexturizing, the butter from the seed of the shea nut is ethically sourced and one of the softest, beautiful shea butters I have ever felt.
Blue Tansy Essential Oil - components such as sabinene and camphor work to support a clear and healthy complexion with calming anti-inflammatory attributes.
Blue Yarrow Essential Oil - the latin name for this plant is Achillea, derived from the Greek God Achilles, a warrior who reportedly used this anti-inflammatory herb to treat war wounds. 
Neroli Essential Oil - helps to tone and tighten skin, discouraging sagging, while providing benefits such as antimicrobial and antibacterial,
T H E   R I T U A L
Massage this cream over skin during day or evening, after cleansing, by using fingertips with a gentle but firm pressure to help stimulate circulation and improve absorption. Breathe in slow and enjoy the exotic undertones that dance within the air while you apply this skin beauty. 
T H E   I N G R E D I E N T S
Rose Petal-infused Distilled Water, Lavender-infused Cold-pressed Sunflower Seed Oil*, Cold-pressed Avocado Oil, Cold-pressed Centrifuged Extracted Coconut Oil*, Cold-pressed Unrefined Hempseed Oil*, Unrefined Ghana Shea Butter*, Cold-pressed Borage Seed Oil*, Emulsifying Wax, Grapefruit Seed Extract, and Essential Oil of Blue Tansy*, Blue Yarrow*, and Neroli*.  (*certified organic)

4 oz in a keepsake glass jar with bail lid