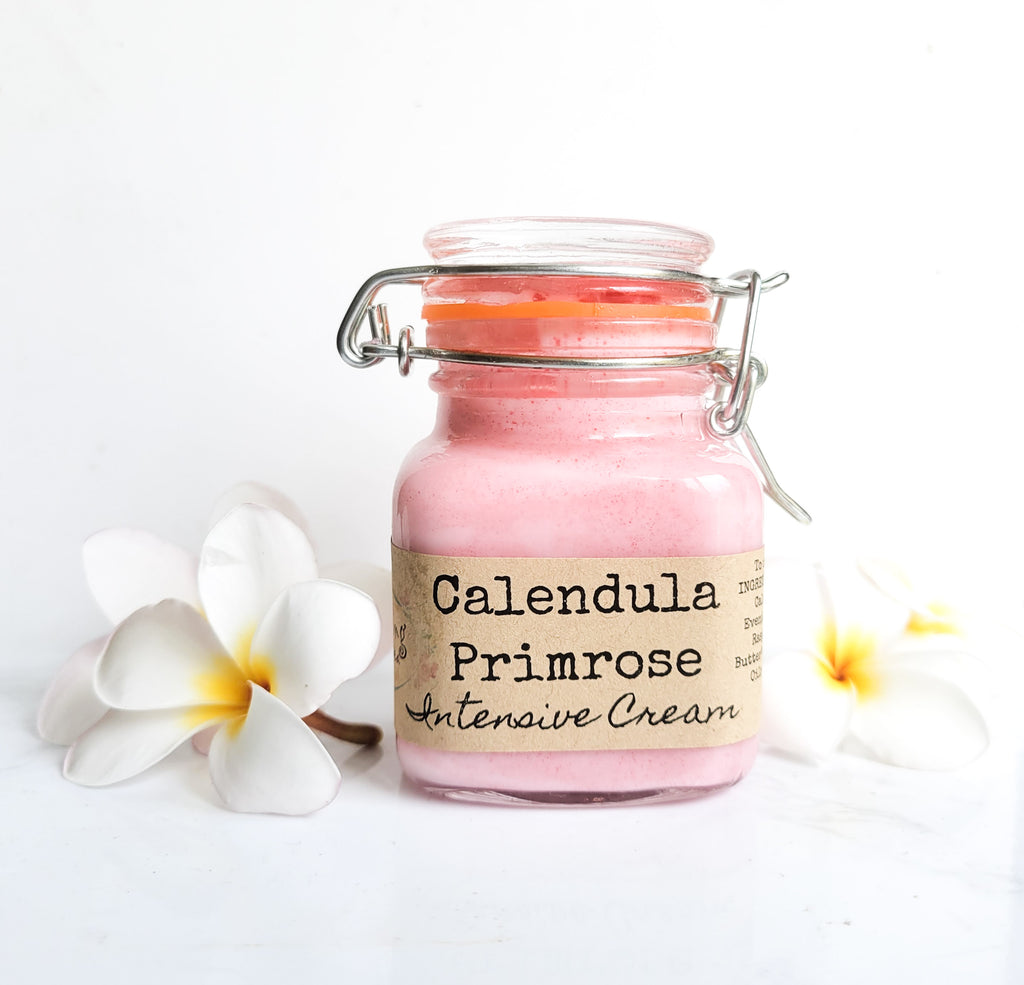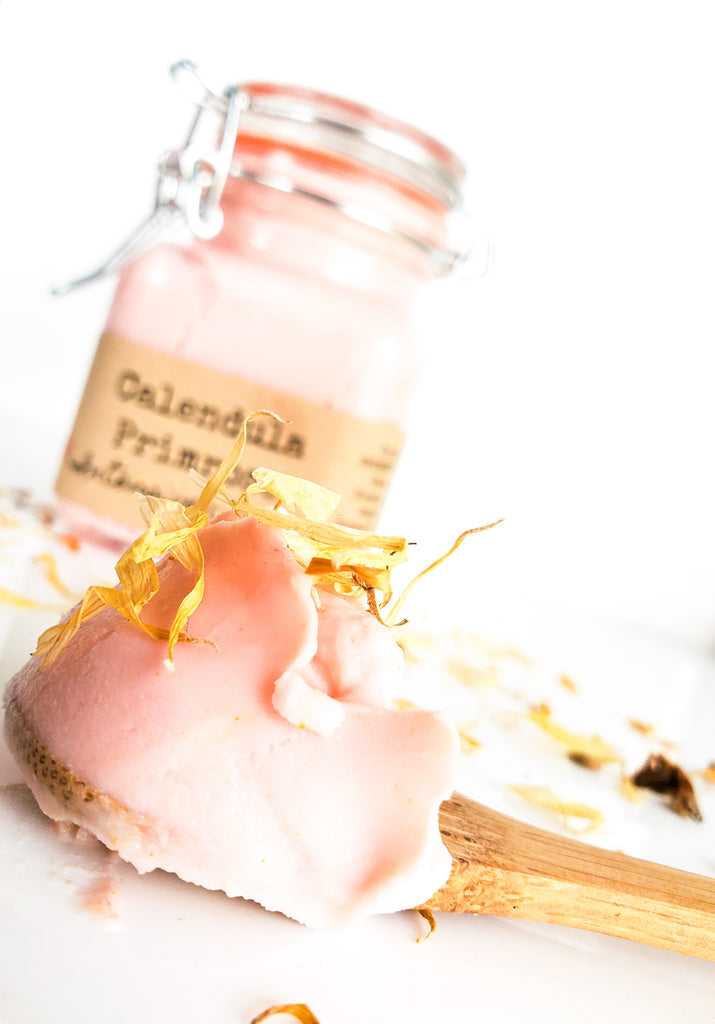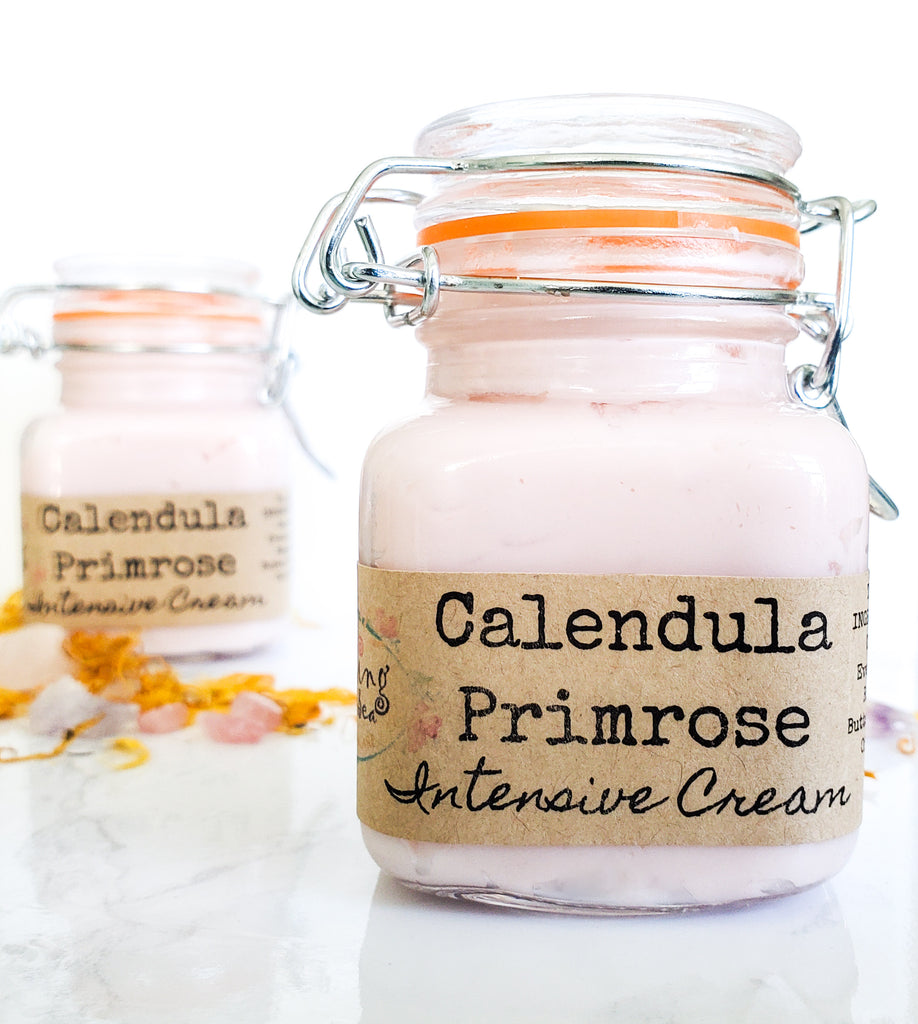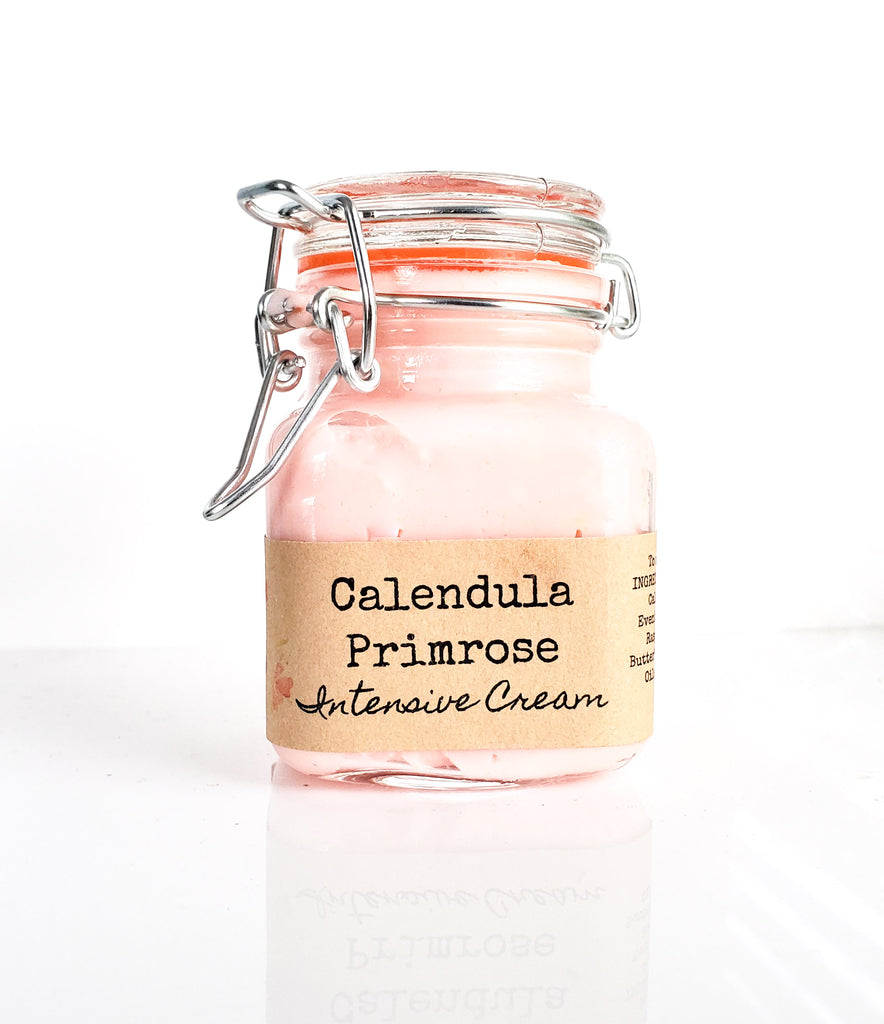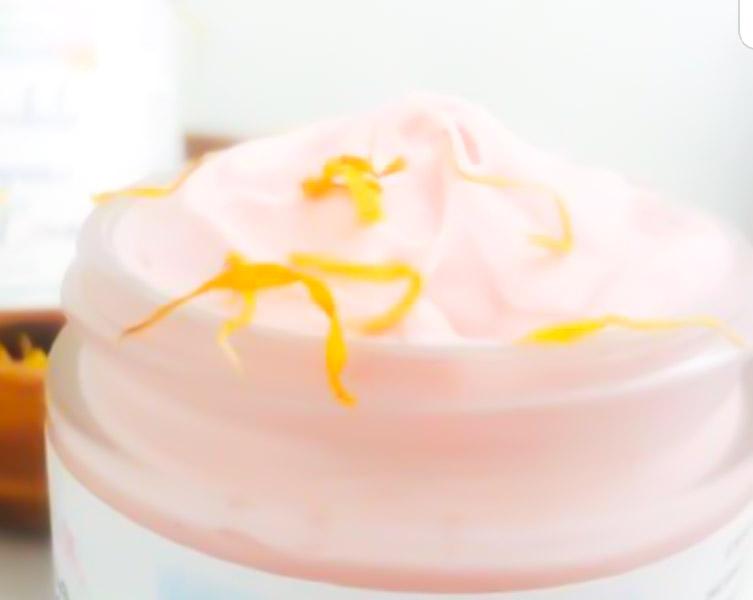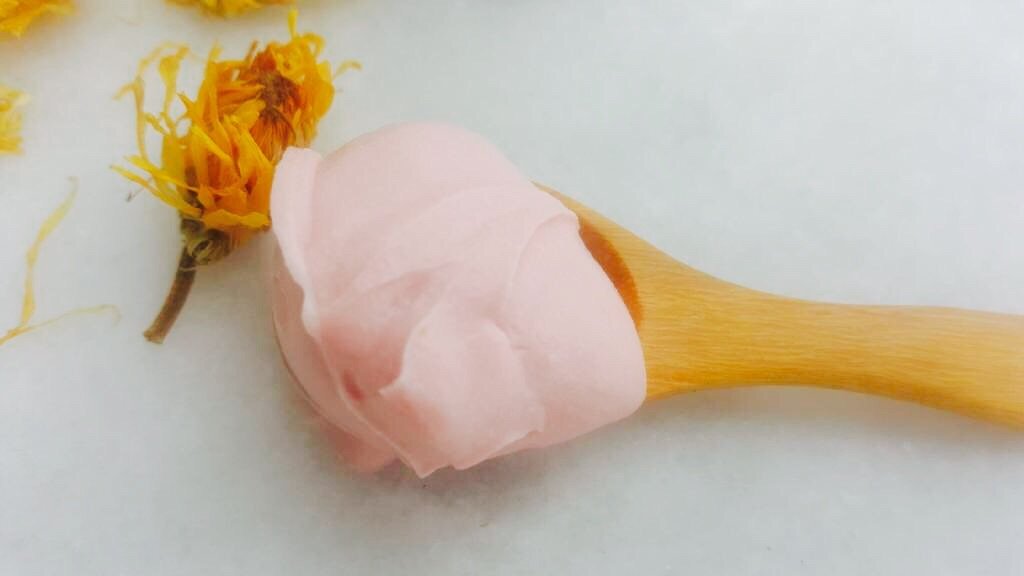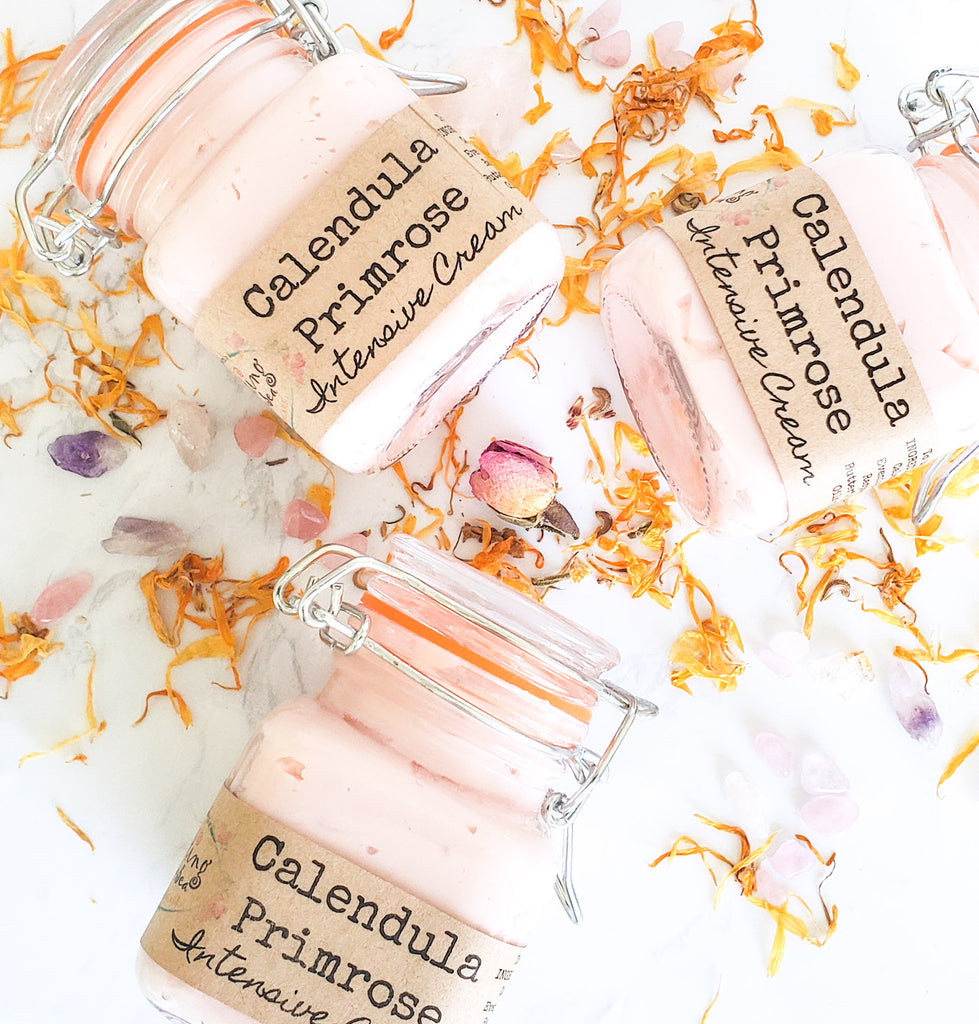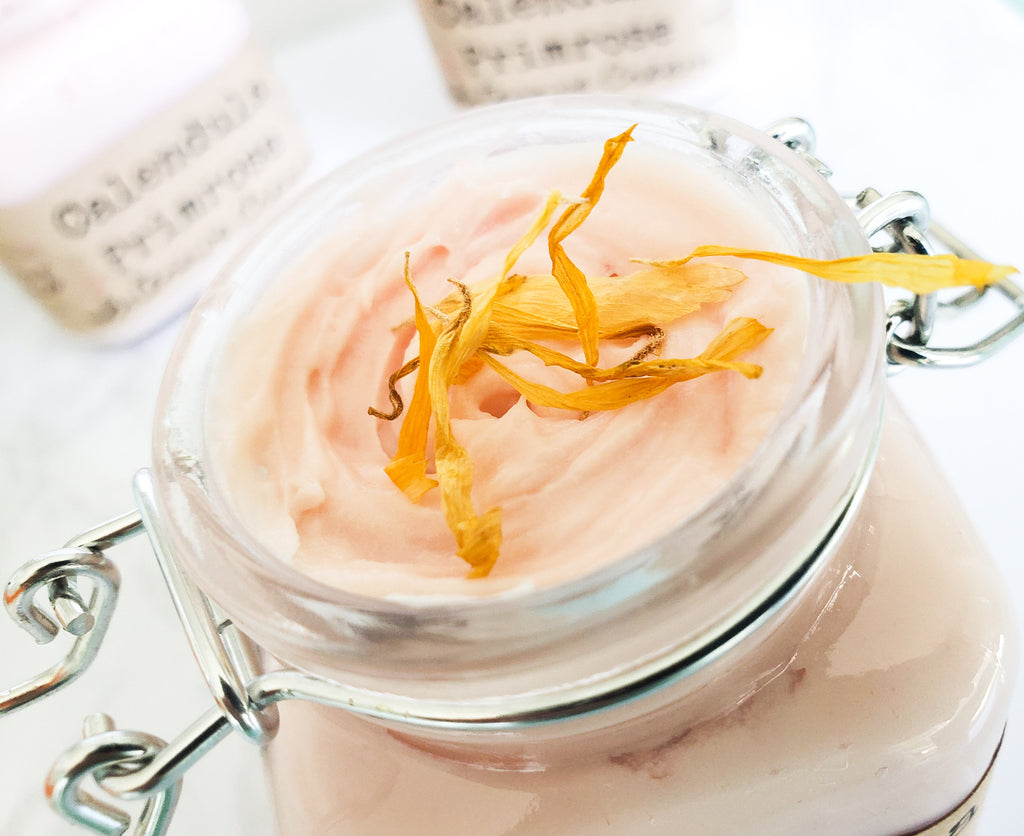 $ 46.00
$ 0.00
Calendula Primrose Face Cream
This listing is for a 3.5-oz jar of Calendula Primrose Intensive Face Cream or a 1.5 oz jar

This ultra hydrating facial cream is like dessert for delicate, dry skin. It's graceful light pink mousse texture works beautifully on mature skin that has weathered sun, seasonal changes, and environmental impacts. Handcrafted from scratch, this cream is crafted with specially chosen ingredients to feed skin with ingredients filled with vitamins and anti-inflammatory properties without clogging pores or leaving a greasy feel. Natural homemade herbal infusions of hibiscus and the root of alkanet, this cream melts lovingly like a dream onto the skin, and the delicate aroma is heavenly with a combination of a select essential oil blend that includes helichrysum, carrot seed, and rose.

T H E R I T U A L

Apply by massaging in small circular motions after cleansing over facial skin. For an added boost, add a drop of your favorite Drifting by the Sea face serum onto a teaspoon of this cream in the palm of your hand, and massage both onto skin.

K E Y I N G R E D I E N T S

CALENDULA - this traditional herb has been around for centuries and is noted for it's role in soothing the anti-inflammatory response, providing relief for triggered inflammatory symptoms.
EVENING PRIMROSE - the rich oil that comes from this lovely plant's seeds contain the fatty acid gamma-linolenic acid (GLA) which has been attributed to restoring anti-inflammatory substances in the skin, promoting health and vigor.
RED RASPBERRY - a light nourishing oil filled with vitamins A & E, this oil has frequently been linked to assisting the skin with sun-protective qualities. Lineolic acids contained in this oil have been noted to help rebalance skin's natural oils and reduce acne breakouts.
GHANA SHEA BUTTER - Derived from the nuts of a tree found in Africa that only begins to produce nuts that can take up to 30 years to get the first quality crop from a particular tree. Shea Butter contains a high concentration of irremovable fatty acids, Vitamins A & E. I use a soft, unrefined shea butter that is light golden yellow in color.
TAMANU OIL - a deep green rich and thick tropical oil with a plentiful phytonutrient profile that is connected to skin health.

A specially formulated blend of Essential Oils:
FRANKINCENSE
CARROT SEED
HELICHRYSUM
BULGARIAN ROSE
PLANT-DERIVED CO2 EXTRACTS

T H E I N G R E D I E N T S

Bulgarian Rose Hydrosol*, Distilled Water, Apricot Kernal Oil* infused with Calendula Flowers* and Red Raspberry Leaves*, Extra Virgin Coconut Oil*, Evening Primrose Oil*, Avocado Oil* infused with Hibiscus* & Alkanet Root*, Red Raspberry Oil*, Vegetable emulsifying wax*, Ghana unrefined Shea Butter*, Vitamin E, CO2 extracts of Calendula* and Evening Primrose*, Essential Oils of Frankincense*, Carrot Seed*, and Grapefruit Seed Extract.

Size Options:
3.5 oz net wt in a glass jar
1.5 oz sample

REVIEWS:
"My skin looks fantastic after 3 months of using your skin care. Pores are smaller, general skin tone is more even, and my skin is really soft. The Calendula Intensive cream is the best cream I have ever used. It firms my skin as well as softens wrinkles. Thank you for sending me the sample of Calendula Intensive cream - I probably would not tried it otherwise, because I would have thought it was too heavy for my skin. That is not the case, it is perfect, goes right into the skin and does not feel heavy."

"I just wanted to let you know that your skincare products have worked a miracle on my skin. I used to have overly sensitive skin, which included eczema, and after using your products for only a couple of weeks, my skin is now in absolutely perfect condition. I didn't realize that I was putting so much trash on my skin when I was using regular skincare products, but I've learned my lesson and will never go back. You have a fan for life."