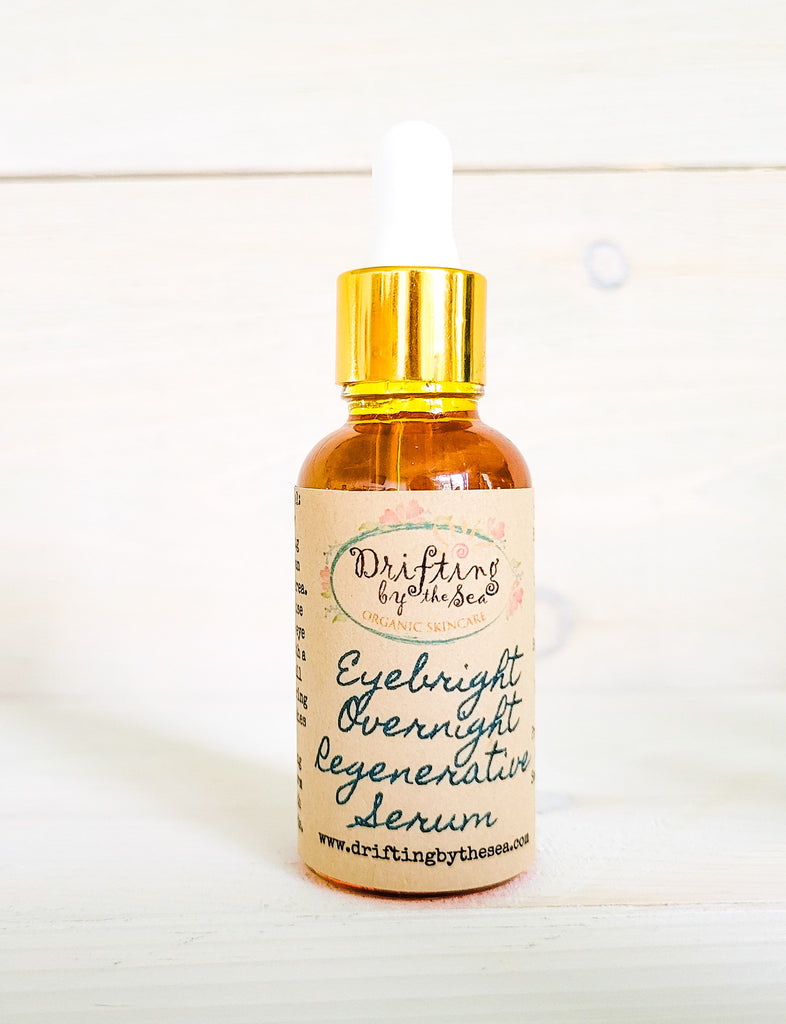 $ 36.00
$ 0.00
Eyebright Overnight Regenerative Serum
An infusion of nutritive tropical oils and skin cell strengthening herbs to brighten and awaken tissue around the eyes. This buttery serum gel is a drink for the eye area that rejuvenates overnight in the plant goodness of sweet berry oil nectars to feel supple, soft and nourished. Helps to restore softness and health under eyes, reducing appearance of fine lines, dark circles, and tiredness. Eyebright Overnight also helps to condition lashes and encourage healthy lash growth, when used on a regular basis. 
P L A N T   A C T I V E S
▶Eyebright has been used in traditional folk medicine to help tighten the membranes surrounding the eyes and prevent secretion of fluids, reducing excess phlegm and mucus in the eyes, sinuses and upper respiratory tract. High in Vitamin C, it supports collagen and tissue healing caused by the aging process. Eyebright is solar and lunar infused into organic Jojoba for several weeks to make this serum delicately effective.
▶Sea Buckthorn Berry is high in Beta Carotene and offers beautiful and quick results that are quite dramatic. This powerful berry contributes to the golden vibrance of this infusion.
▶Carrot Seed Essential Oil is derived from Queen Anne's Lace (not actual carrots as most people may think). Carrot Seed makes a superlative oil that lovingly treats skin that has been damaged from the sun with a regenerative force.
▶Rosehips Seed is of course one of my favorite ingredients and offers this serum an aroma like none other, which is soft, warm, berry-like. Rosehips is high in vitamin C and also since it is cold-pressed and still contains the benefits of all the vitamins, it carries a rich golden color.
▶Evening Primrose Oil is high in fatty acids and helps to restore softness and skin cell renewal beauty. It also contributes to healthy hormones, which in turn helps to balance out skin's sebum production. 

T H E   R I T U A L
Massage small amount of serum into all areas around the eyes: eyebrows, in-between the eyes (your "third eye"), and under the eye area. Pat lightly or just pinky fingers to apply. Leave on overnight.

Eyebright Overnight can also be used to condition the eyelashes and remove eyemakeup. To remove makeup, close eyes and apply Eyebright with a cotton pad or Q-tips, wiping lashes very gently to clean. Keep applying until lash makeup is removed and pat dry with clean damp washcloth.

T H E   I N G R E D I E N T S
Rosehips Seed Oil*, Jojoba infused with Eyebright*, Pomegranate Seed Oil*, Sea Buckthorn Berry Oil*, Evening Primrose Oil*, and Carrot Seed Essential Oil*. (*certified organic)

1 fl oz in a glass bottle with cork