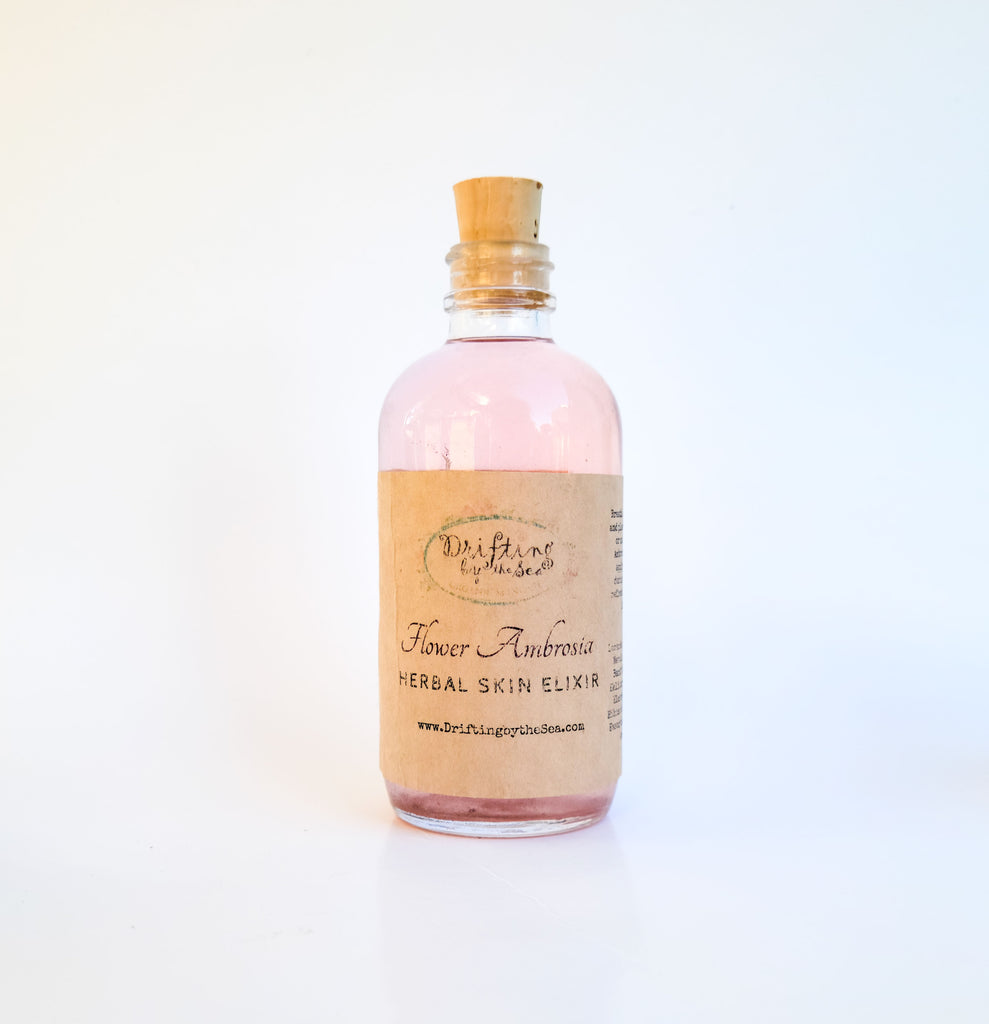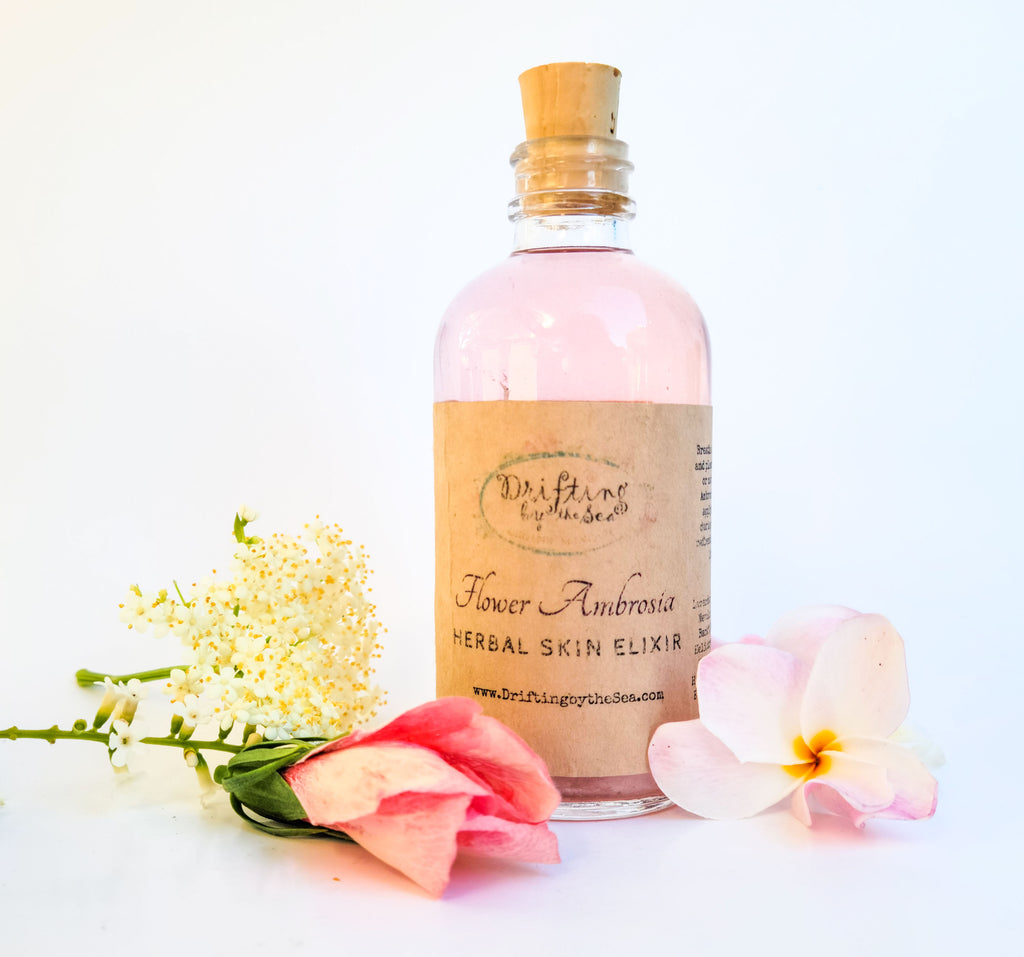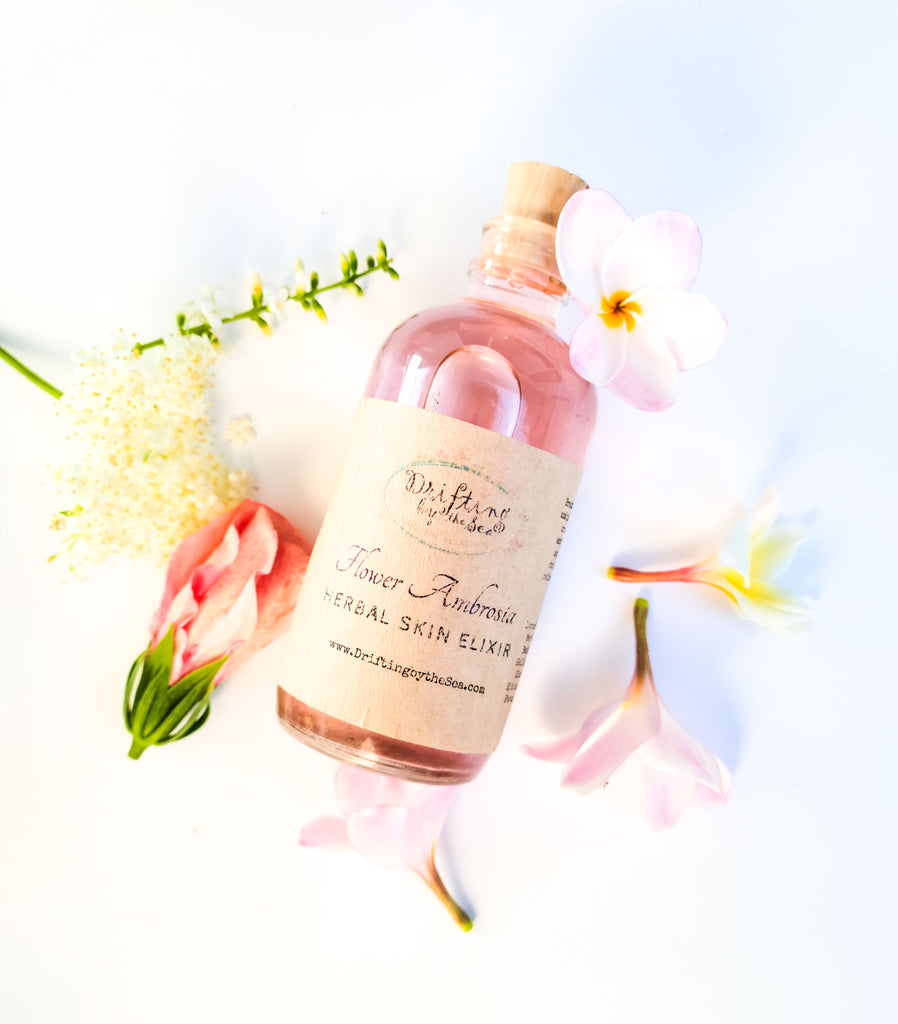 $ 20.00
$ 0.00
Flower Ambrosia Herbal Skin Elixir

In the ancient Greek myths, AMBROSIA is a drink connected to longevity or immortality. Flower Ambrosia is truly a petal-fresh skin-food "drink" for the skin like you've never experienced. Experiencing this plant-infused facial splash tantalizes the senses with the happiness and peacefulness of delicate botanical flowers grown, picked, and infused into this skin medley right on our little barrier island.
Fresh Plumeria, Jasmine, Fiddlewood, Elderberry, and Hibiscus flowers are collected and are infused together in-house into one of the most beautiful extracts your senses have encountered.... wholesome, purifying plant hydrosols are combined gracefully with their plant alchemy to sing your skin songs of glistening happiness, balance the skin, and bring a beautiful calmness to the mind. Flower Ambrosia mist is like a sweet facial juice to feed your skin which will also uplift the senses with feelings of joy and an abundance of flower love.
T H E ♥ R I T U A L
Breathe deeply. Shake your bottle, close eyes, and place quarter-sized amount on cotton ball or natural fiber cloth, massaging Flower Ambrosia over facial skin and neck, before applying your daily moisturizer. Repeat during the day when you want to feel warm, refreshing, tropical flower kisses splashing like gentle waves upon your skin.
T H E ♥ I N G R E D I E N T S
Lavender Hydrosol*, Bulgarian Rose Hydrosol*, Neroli Hydrosol*, Extracts of White Willow Bark*, Lavender*, Rose Petals*, Calendula*, Helichrysum*, Jasmine*, Fiddlewood flowers*, Elderberry flowers*, Plumeria Petals*, and Hibiscus*, with Neroli*, Violet Leaf* and Yuzu* Essential Oils. (*signifies certified organic, organic, or wildcrafted ingredient)
4 fl oz in a glass bottle with cork