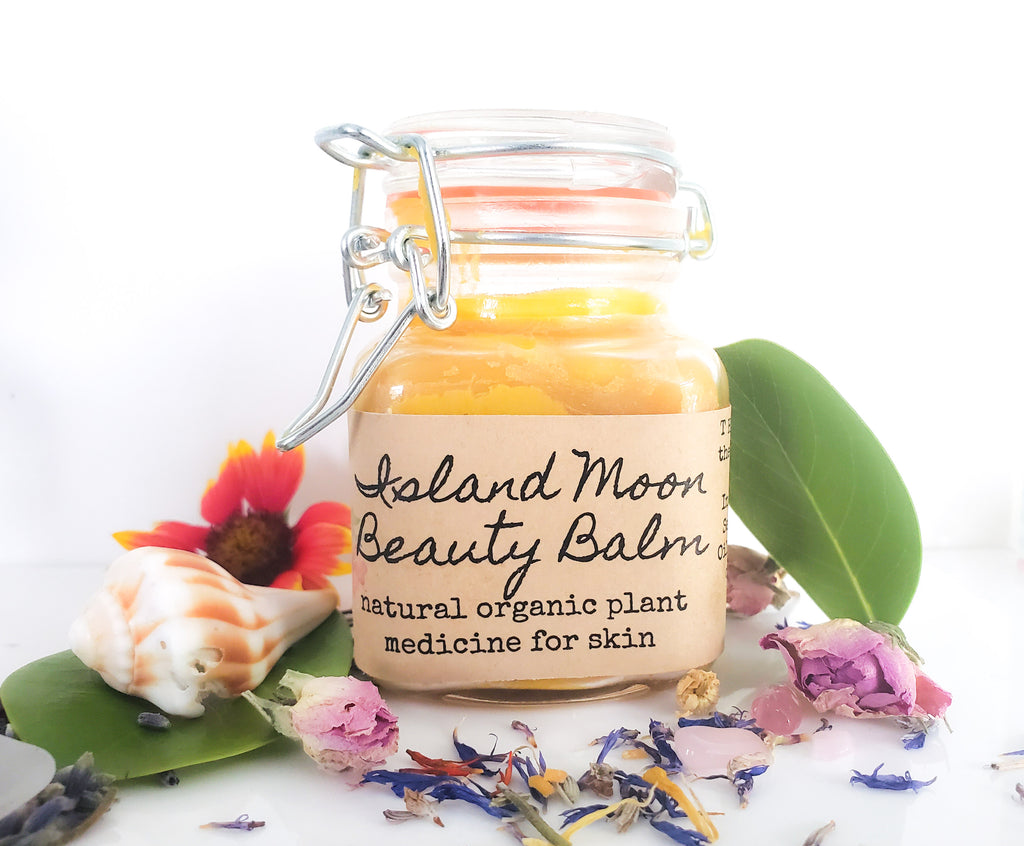 $ 23.00
$ 0.00
Island Moon Beauty Balm
Imagine covering your skin with a layer of blissfully soft, creamy fusion of tropical warmth to nurture and protect. Recreate a beautiful softness, and regenerate damaged skin with this concentrated balm enriched with plant vitamins that enhance skin cell growth and repair tissues that have been damaged by the environment and aging. Light enough to wear for daily moisturizing benefits, and will not clog pores. Specially chosen essential oils help to dissolve cellular debris naturally without damaging skin, leaving it plump and dewy. 
Ingredient Spotlight~
Sea Buckthorn Berry ~ rich in fatty acids and anti-oxidants with a Vitamin C content 12x that of oranges, this powerful ingredient is high in beta carotene and the only plant source containing omegas 3, 6, 7, and 9 making it a complete omega family.
Cacao ~ cocoa butter that has not been heated to more than 115 degrees, it contains high amounts of natural antioxidants and mood-boosting qualities. 
Pumpkin Seed ~ stimulates oxygenation, reduces inflammation, stimulates growth of new cells, and is a rich source of vitamin E.  It also contains a high amount of natural fatty acids that help speed up the repair of damaged skin.
Avocado ~ rich in anti-oxidants and vitamins A, D, and E helping to increase skin collagen production allowing it to be more supple, reducing the appearance of sun damage & age spots.
Sandalwood ~ reduces the appearance of scars, fine lines, wrinkles, and age spots by improving the activity of skin cells and working as a natural emollient to protect and heal.
Frankincense ~ thick, rich sap that helps to regenerate healthy skin cells, reduce scars, and condition skin by providing natural immunities against unwanted bacterias. 
Vetiver ~ an ayurvedic ingredient that has been used to treat imbalances of the skin and heart (nervousness, anger, and stress).
The Ritual: Gently grace a teaspoon or more in fingers and massage over skin in circular motions. Can be combined with Mermaid Petals Cleansing Grains for a sensitive skin facial cleansing exfoliation. Add a few drops of your favorite Drifting by the Sea face serum for an added boost to your evening skincare ritual, or during the day for anti-aging benefits. Can be used after your face cleansing routine to softly remove eye makeup by adding a small scoop to a cotton pad or ball and lightly gracing surface of eyes. Follow with a clean cotton pad to completely remove makeup. This is also an excellent brow balm, helping to promote the healthy growth of eyebrows.
Ingredients: Cold-pressed Virgin Coconut Oil*, Cold-pressed Pumpkin Seed Oil*, Cacao Butter*, Beeswax*, Sea Buckthorn Berry Oil*, Avocado Oil* infused with Madagascar vanilla bean*, and an Essential oil Blend of Manuka*, Helichrysum*, Sandalwood*, Vetiver*, & Frankincense*. (*signifies organic, wildcrafted, or certified organic ingredient)
3 oz net wt in a glass jar