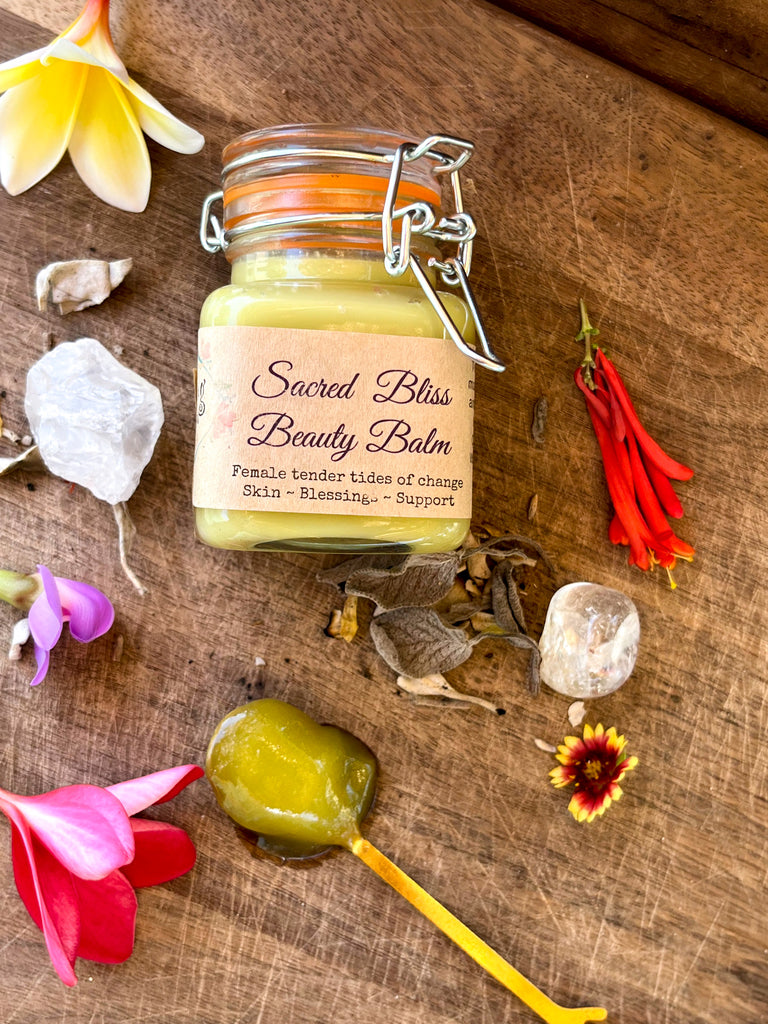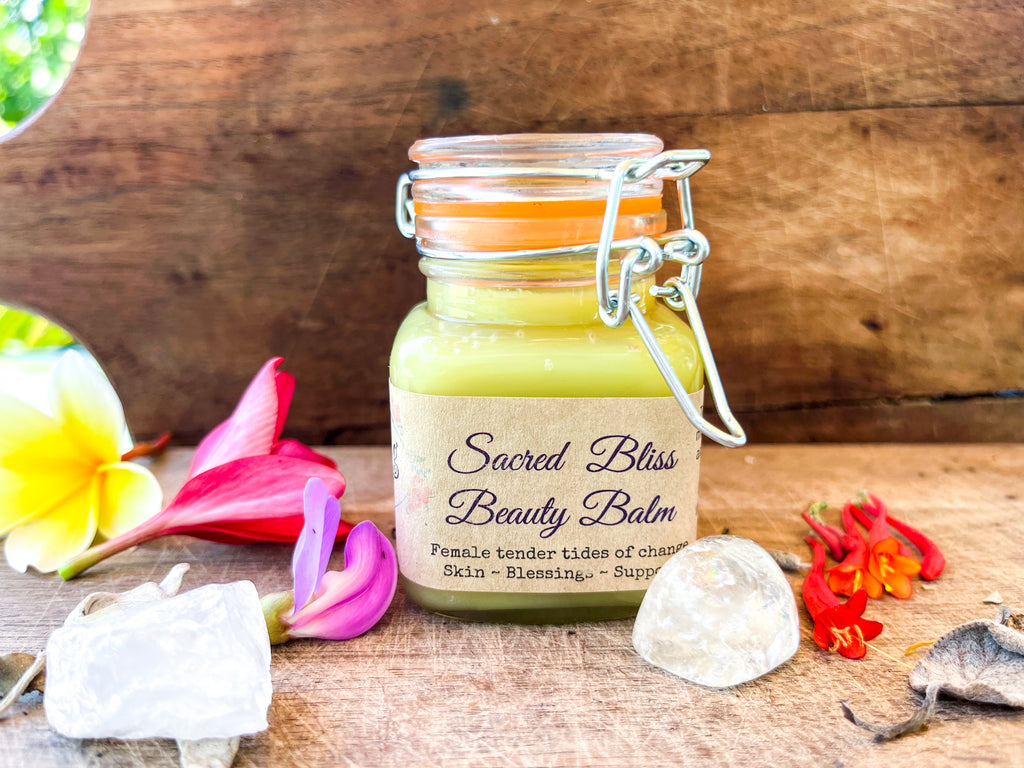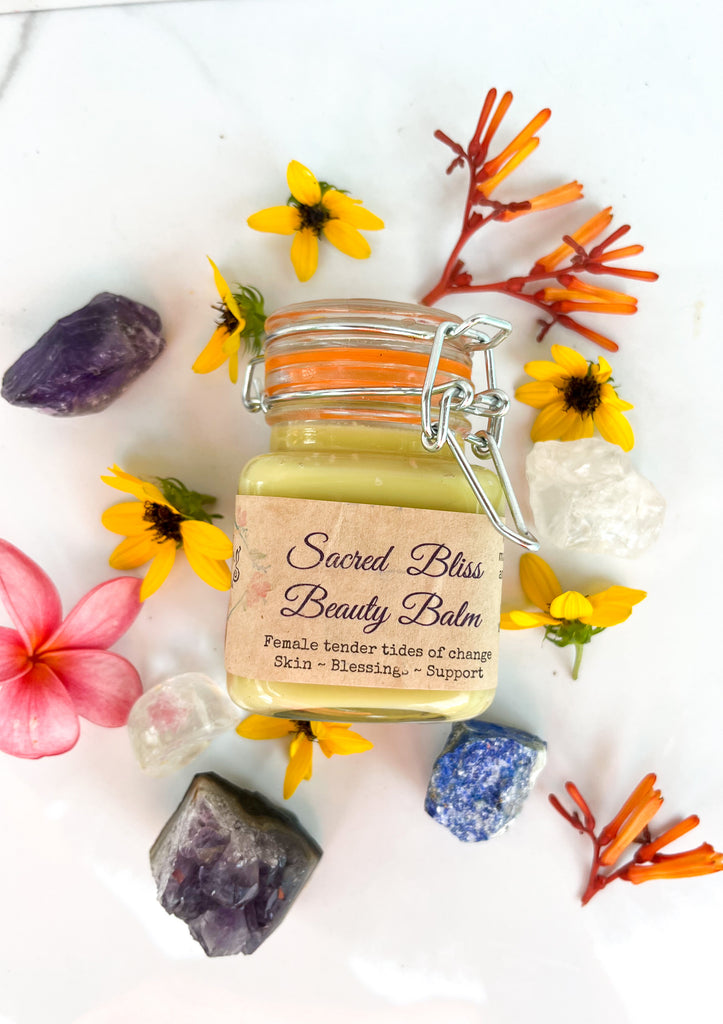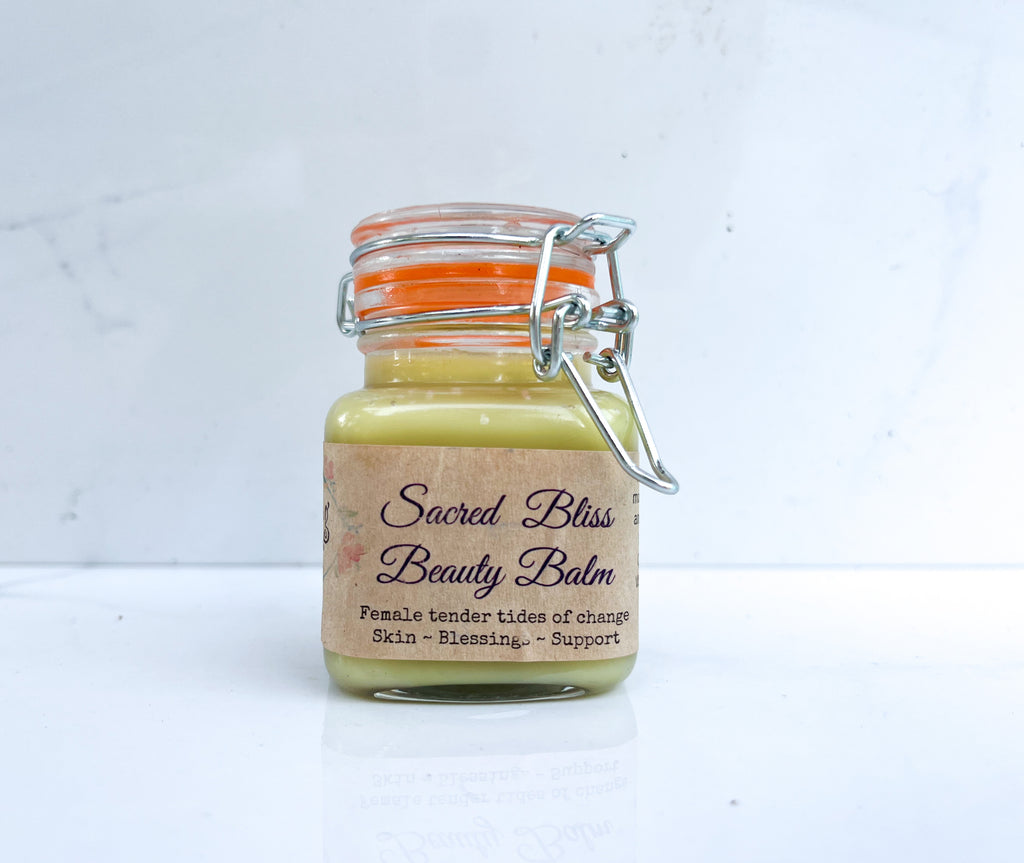 $ 36.00
$ 0.00
Sacred Bliss Beauty Balm
Envelop your skin in a balm infused with natural plant enzymes as it plumps, softens, and revives circulatory rhythm to restore optimal hydration and luminance.
Support and nourish the female body systems during both pre- and post-menopausal stages, Stress, tension, anxiety, and the need for mood balancing can be targeted using herbs that tone and support the female system.
Sacred Moon can be massaged on facial skin, neck, pulse points, and upper chest area daily to infuse these nourishing herbal treatments into your body's largest organ, the skin. Use this precious balm with intention, as you apply it to your skin envision the immediate environment changing into a soothing, sacred place for your inner child to safely find healing, hope, and wisdom. 
I N G R E D I E N T     H I G H L I G H T S
Evening Primrose ~ high in essential fatty acids - building blocks for cell membranes to ensure the skin barrier remains strong
Tamanu ~ wound healing & skin regenerating capabilities that help increase the skin cell turnover rate, promotes acne-scar fading and hyperpigmentation of skin
Don Quai ~ also known as "female Ginseng" research has found this herb helps to regulate women's bodies when they are unaligned with nature's rhythm. It's effects have been shown to boost moods, increase blood circulation, leaving skin oxygenated and energized with nutrients
Passionflower ~ an anti-inflammatory, skin calmer and nervine that promotes detoxification for clearer skin
Red Raspberry ~ high in acids and Vitamin C which helps to brighten dull skin and provide a building block for collagen formation
Hibiscus ~ contains a vast network of antioxidants to support the body's natural collagen production and prevent elastin breakdown with its high Vitamin C content
Rose Hips ~ luscious and rich with vitamins, this oil helps to protect skin by encouraging collagen and connective tissue growth, repairing deep cellular damage, filling in lines and wrinkles 
Lavender ~ anti-inflammatory, calming, and cooling to the skin
Helichrysum ~ reduces redness, swelling, and irritations, supporting the healing process to minimize the appearance of scarring and broken capillaries
Borage Seed Oil ~ packed with nutritive fatty acids which help feed the skin barrier


T H E    I N G R E D I E N T S
Evening Primrose Oil*, Tamanu Oil*, Herbal Infusions of Don Quai*, Passionflower*,  Red Raspberry*, Hibiscus*, Rose Hips*, St. John's Wort, Lavender*, Ghana Shea Butter*, Extra Virgin Coconut Oil*, Beeswax*, Borage Seed Oil*, and Essential Oils*. 
Packaged in a 3.5 oz glass jar